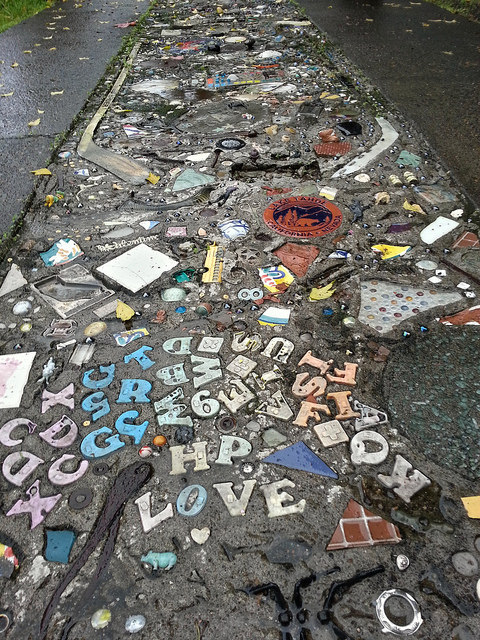 Today I managed to visit the studios of three artists as part of Portland Open Studios with my friend AF. In the past we've made more of an effort to see many studios across the 2 weekends the event runs, but this year has had some impediments so making it out for a few felt like an accomplishment.
Because we were so pressed for time, going after I'd finished teaching a tw0-hour class, we opted to go to a cluster of studios that we could get to quickly and then walk between them. This meant we saw some artists we would not have picked otherwise. This meant we saw some unexpected things.
Walking up the driveway to one artist's studio we paused to appreciate the mosaic of found objects embedded in the space between the tire tracks. Toys, old phones, sunglasses, letters, sports equipment, random action figures, and more.
Inside the studio of this artist were beautiful wooden sculptures, I loved spotting bits of colored pencil cut down small and added into the wood inlay.  She had a charming long dog, spotted and friendly. There were also all kinds of charming animals, with signs and wearing fruit, dancing around trees.
On such a gray, blustery day I felt particularly grateful to see such whimsy on bright display.