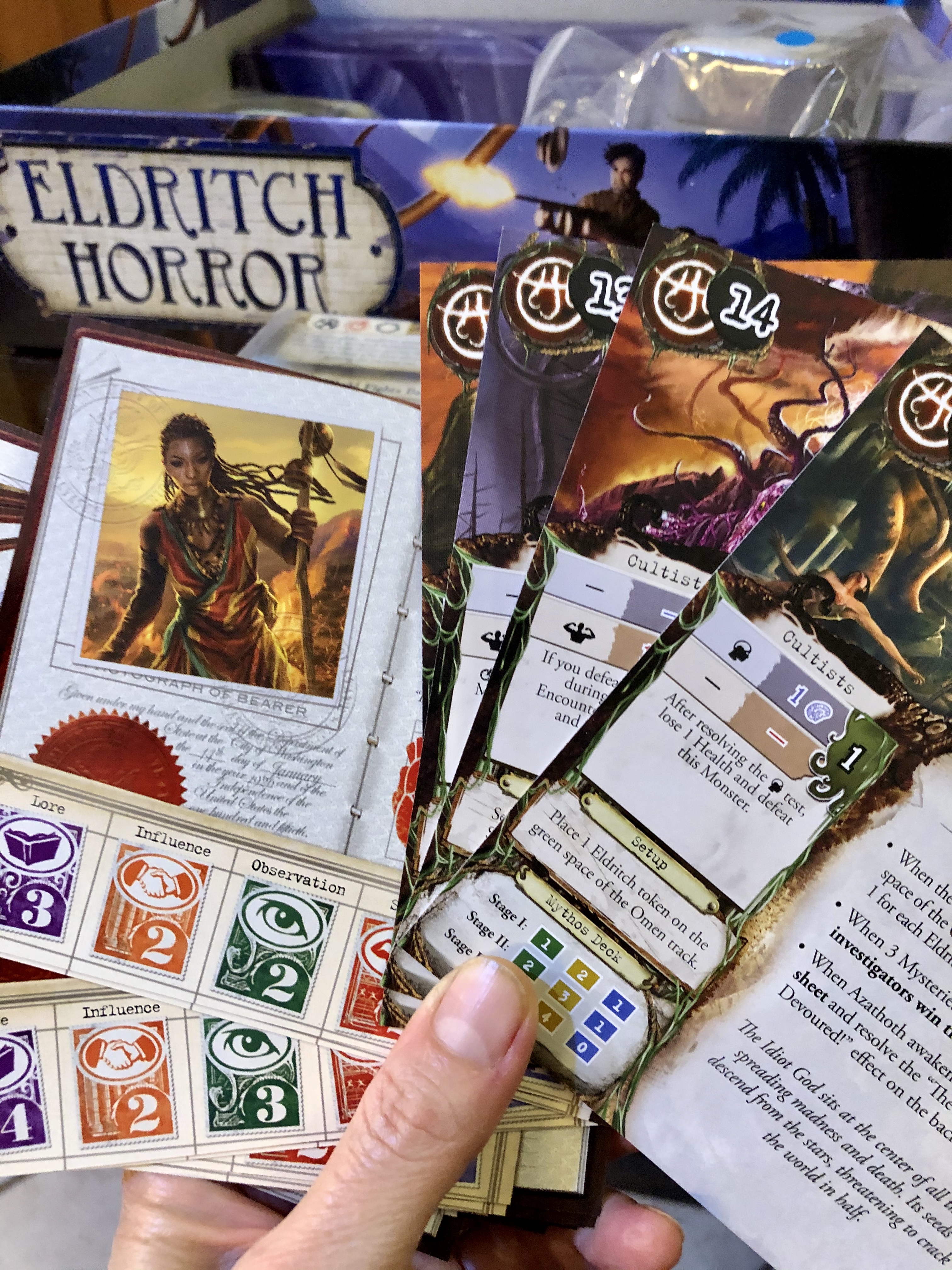 I'm not good at staycation. I can't let go of all the stuff that needs doing in our house. The to-do list I never seem to get far enough with because I'm doing something else like teaching, doing stuff with friends, and resting. Not being able to even get the house cleaned up feeds my feelings of unworthiness
I realized this was driving my urgency to go away for my birthday. I don't want to see all the things I feel behind on. That's the appeal of going away.
Instead I'm going to practice resting without shame, less shame. That's a big order for my birthday week, but the pandemic continues to make everything more difficult.
Today CK surprised me with an early gift, a complicated tabletop game that's based on a role playing game I played in college! There's an option to play solo too. She suggested I use some of my time off this week to learn how to play and teach her on Friday.
All told I've opted for a really quiet birthday this year. We're having a leisurely morning then going on a hike & letterbox hunt at a park not too far from our house. We'll picnic and then come home to garden. It is going to be a pretty wonderful day spent with some of my favorite beings.
I'm celebrating my first birthday since my Mother died this past winter. It has felt at times pretty rough, although given that my last birthday-related communication from her was deliberately hurtful, it is also something of a relief. More steps into this strange, new world where my Mother no longer can hurt me. Still, it has made this birthday seem a little less celebratory in some ways.
In other ways it feels like an enormous milestone. Over the past 16 years I've completely changed my life to live more healthfully and more ethically. I don't have as much of a comparison to my Father's family, since they've always been estranged, but on my Mother's side the later half of the 40s, if not the early half, came with one or more prescriptions for managing heart disease and/or Type II Diabetes. Hypertension, high cholesterol, and dangerously high blood glucose levels all ran in my family. Women tended to die of strokes or some type of heart failure. Obesity was also something that just began to happen after high school. It was the normal behavior for pretty much all the women in my family, always on an endless cycle of dieting, binging, stress-eating, etc.
To be 47 years old, not obese and not on a single medication for heart disease or diabetes is an enormous accomplishment.
Yes, I take daily medications. I take things that help me live with the chronic pain from my back due to degenerative disc disease and I take things to help me manage the anxiety and depression that arise from my C-PTSD. Those and things to further support my overall health, like a daily multivitamin! That's it though, and that is something that my Mother would make out as if I'd performed some kind of miracle instead of giving me the credit for working really very hard indeed to change my life, to steer myself toward health.
In a way I don't think I'd ever thought I'd be here now. Bigger than the still daily shock of recalling that I stopped working in tech nearly 3 years ago. I really doubted my health for so many years, internalizing my Mother's never-ending medical crises until I started to believe that I was next, I'd get cancer and die. I'd have a heart attack. I'd get congestive heart failure too.
Yet here I am.

I'm still figuring out how to engage around doing work with other people, which still feels challenging to get back into but I'm slowly learning the boundaries of my ability to work on projects again. I'm at a point now that I don't think I really could go back into the stress of the kind of tech work I did for nearly 2 decades, even very occasional meetings tends to increase my anxiety. Not that I really want to go back to tech in any way, sometimes I just miss the money and it briefly crosses my mind. That's when I recall the tone of my doctor's voice when she describes my health a few years ago as being in "acute crises" and "on the verge of hospitalization".
I'm learning how to be a business owner, luckily with the help of a program for "dislocated workers" that provides me with free training and support from a business advisor. I'm close to completing my business plan and then can submit it for a small seed grant from the program. I came from such a blue collar family that being a business owner, trying to get my brain around how business works, feels like such an unexpected experience.
So much about my life now is unexpected, not at all what I used to be planning for. 47 sees me watching for sales and trying to do our grocery shopping strategically, cooking more inexpensive meals at home. I am reminded of the frugality, the barest of minimum my Mother and I lived with for long stretches at a time. It isn't always easy and I do miss my tech salary. That said, my life now is so full of richness, wonder, delight, and love. There are so many things I continue to discover are possible when I don't work 50-60 hours a week, including connecting deeply with CK over gardening as well as having time to really appreciate all the things, including beautiful flowers, she brings to my life.
I'm so grateful to be here now, in this life, with this health, and with the support of the loving beings that now surround me. I'm teaching 9-12 Yoga classes a week now and continuing to work towards completing my certification in Integrated Movement Therapy. I'm stretching my confidence slowly in regards to my art, but continue to explore the ideas that come to me as both a way of creating beauty and to let myself use my art as a way to express the journey I've been on as I heal.
Having come all this way through all this welter
Under my own power,
I've earned this worn-down, hard, incredible sight called Here and Now.

I've taken liberty a bit with some lines above from a poem by Northwest poet, David Wagoner, "Getting There". It's a poem that has continued to open and unfold for me since discovering it when I was 15 or so. It feels appropriate to put it here again, it has been in my mind the past several days as this birthday approached.
Getting There
by David Wagoner
You take a final step and, look, suddenly
You're there. You've arrived
At the one place all your drudgery was aimed for:
This common ground
Where you stretch out, pressing your cheek to sandstone.
What did you want
To be? You'll remember soon. You feel like tinder
Under a burning glass,
A luminous point of change. The sky is pulsing
Against the cracked horizon,
Holding it firm till the arrival of stars
In time with your heartbeats.
Like wind etching rock, you've made a lasting impression
On the self you were
By having come all this way through all this welter
Under your own power,
Though your traces on a map would make an unpromising
Meandering lifeline.
What have you learned so far? You'll find out later,
Telling it haltingly
Like a dream, that lost traveler's dream
Under the last hill
Where through the night you'll take your time out of mind
To unburden yourself
Of elements along elementary paths
By the break of morning.
You've earned this worn-down, hard, incredible sight
Called Here and Now.
Now, what you make of it means everything,
Means starting over:
The life in your hands is neither here nor there
But getting there,
So you're standing again and breathing, beginning another
Journey without regret
Forever, being your own unpeaceable kingdom,
The end of endings.
A week ago was my 45th birthday.
The evening before we had dessert and went to a linoleum block carving class together. It is a technique that is also used to carve stamps for things like letterboxes, so now we can make our own stamps to plant. We had a lot of fun taking the short class together, each finally choosing a piece of Banksy's artwork to make carved blocks from. Here's my carving of one of my favorites:
We celebrated my actual birthday quietly by driving out to Arcadia Beach for a picnic and a walk on the beach with Dora. It was an unusually sunny day at the Oregon Coast, which was a real treat. We took our camp stove and I made tacos for our picnic. On the way back home we stopped at a farm stand and picked up corn, summer squash, chilies, and a big head of savoy cabbage. We just took it easy in the evening, eating leftovers and playing boardgames. The next night I grilled a bunch of the veggies for dinner.
CK took off the whole last week of August, two days of it comp time, since she'd worked the first three weeks, nearly continuously. We spent the time working on some house projects, resting, reading, and playing boardgames, mostly Twilight Struggle. CK had picked it out years ago, but we never seemed to find the time to figure out how to play it. We finally did last week and had a good time playing it, although I have lost all the games we played!
Recently a friend from college recommended The Artist's Way to me after I'd had a very upsetting experience demonstrating teaching at a yoga studio. Christie had noticed my interest in it and surprised me with The Artist's Way Starter Kit
and The Artist's Way Workbook
. She also picked out a couple of other books I'd wanted, one for fun, The Graveyard Book Graphic Novel: Volume 1
, and the other for inspiration, Living Your Yoga: Finding the Spiritual in Everyday Life
. I'll be detailing my experience with The Artist's Way on our new blog, ZenZada.
I also got my proposal, Yoga; a Model for Open Knowledge, submitted to the Mozilla Festival being held in London this October (you have to search for the title, there isn't a direct link to it).
Last month I was feeling very down, so a quiet and restful birthday with CK was just what I needed. It was also nice for us to have some time to just rest and enjoy being home together. It felt like the first time we've had to actually be at rest in our home together after the trauma of the past 2+ years.
CK asked me a goal for this new year. After only a little consideration I said that I want to actually sell artwork! It seems a worthwhile goal and I certainly am set upon the path.
This summer, August 28 to be exact, I will be 40 years old. A nice round number, as I've have taken to saying lately.
A couple of days ago I was recalling my Mother turning 40. We were living in Vancouver, Washington in a old rambling apartment building that served a lot of low-income residents my Mother was the manager of. It had a collection of strange and interesting people that I would hang out with.
Several of my Mother's friends got together and threw a surprise birthday party for her despite her express wishes to entirely ignore the occasion. She was depressed about where she was in life and she hated her body (I'm sure she has always hated her body to some degree or the other).
I recall her crying. Not in joy or delight that her friends and family so wanted to honor her that they threw the party anyway, but in abject misery. I remember her laughter that bordered on hysteria throughout the event and the hard, sharp words she had later when everyone had left.
As I'm approaching this point in my own life I've come to realize that the older I get the more uncertain I feel. During the Dharma talk tonight Chozen asked us all what age we feel like in our minds. It occurred to me that lately I tend to feel somewhere between 9 to 14 and painfully aware of my uncertainty about ever attaining the state of being a so-called "grown up".
I don't know that I've become more comfortable with the uncertainty, I'd like to think that I have. What I do know is that I'm not approaching 40 with the same level of dread and horror as my Mother. I know that I want to great that occasion with a deep appreciation for my life, how far I've come. In a way it is just one more instance where my Mother has shown me the way by providing an example of what not to do.
Suddenly it is 9:45PM on September 1, 2008. My long birthday/holiday weekend is at an end -- here's a quick re-cap.
My evening Saturday with CK was really marvelous. We biked back to her place, which seemed really hard still on my legs, and hung out a little. I got dressed while she hopped in the shower and sat on the sofa feeling the strange nervousness. I wore a very simple black skirt and shirt with my Teva sandals on so I'd be able to walk around comfortably. I added the necklace she'd given me along with the coconut ear jewelry I'd bought at Last Thursday. She woke a black shirt & blazer with some gray trousers. I realized I've never seen her that dressed up and she looked fantastic.
Drinks at the Heathman were fantastic, as good as I recalled from years ago. We also popped into Southpark and each enjoyed a half glass of wine with some spiced nuts, she a German Riesling, I picked a French muscadet. Both wines were very good and it was great having the half glass option. The nuts were very tasty and we didn't bother to find out about butter or not. We were having such a good evening and conversation that CK suddenly noted that we had to go.
Dinner at Higgins was excellent. We had a roasted summer vegetable & spinach salad with a balsamic dressing and a smoky, blended gaspascho that was rich with olive oil. CK's entree was a tomato, zucchini & chick pea flour cakes with basmati rice and a lovely sauce that included capers. I ordered the roasted eggplant risotto that came with a red pepper sauce. We also had a bottle of Evolution, which still is a favorite white.
It was great fun, although chilly for my birthday. We enjoyed walking around from spot to spot. It is an easy walk to her flat and the MAX stop on 7th Avenue, so it made the whole evening a piece of cake. Which we didn't have, instead we had a luscious peach, plum & ginger sorbet with a cup of coffee. CK even had a little of the coffee with me, they even had soy milk for us!
Sunday we got up and CK came up with the idea of hopping out of bed and over to Sweet Pea for brunch. This is something that is a regular with friends of ours but I rarely get to go since most Sundays I teach yoga at 11:15AM. However, this was a long holiday weekend and my summer series finished last weekend. We quickly pulled ourselves together and made our way over. It was crowded, of course, and we sat for part of our meal on the stairs leading up the the photographer's office (closed on Sundays). Tofu scramble, spicy seitan sausage (which I liked), steamed kale, diced red potatoes, a suitably savory gravy, pancakes, AND biscuits. Midway through we split a table with some other folks and each indulged in a second biscuit (I covered my with some agave on top of the Earth Balance).
Sunday afternoon CK and I watched Primer. I enjoyed it although the whole story starts to unravel and you start going back and forth in your mind as to when things really started to come apart. Subtle and lots of small things to catch. CK was going to watch and listen to the director's commentary which should be rather interesting.
Today we tried to watch Across the Universe, but it wasn't really catching us. I was enjoying it alright, just curious to see what music they'd use where, but not so much that I wasn't willing to turn it off.
Trying to write a little earlier today. Going to meet CK at my office in about an hour and we'll ride back to her flat. We have dinner reservations at Higgins at 8:30 and plan to have drinks at the Heathman beforehand. Fancy dinner date night for my birthday.
I feel oddly nervous! I just tried on two different skirts, in itself a bit unusual for me, and three different tops. Finally settled on something that is very "Portland" dressy and won't look ridiculous with the shoes I'll be wearing (which are actually very important). CK has seen me dressed more nicely for work but something feels different in dressing up to look good. Not a bad nervous, just I'm aware of that energy.
I finally really slept in! Woke up just past 8AM with both Zonker and Phoebe in the bed. Had some coffee and an English muffin with peanut butter and jam. Then we put up the paper, hanging light in the "shala" (really our meditation and yoga room, but AM immediately took to referring to it as the shala and it is easier to say). We also hung up the beautiful Kalamkari hanging of Buddha teaching that was a gift from a co-worker from India.
This room has gone back to feeling like a refuge. It had gotten filled up with boxes while we sorted out stuff from the garage. The futon that had been in there got moved downstairs so someone could still sleep down there after we gave the old futon to the Burmese family. I felt sad whenever I went in there go grab my yoga gear. This week I sorted out everything to go to Goodwill and AM has taken a carload of things away today. I recycled piles of papers and pitched out other stuff not in good enough shape to donate. We got a new sofa bed for the basement and moved the futon back up. Next weekend or so we'll pick up a couple of shelves, one for that room and one for mine. Once those are in place and I've put some fabric into storage things will look quite put together. AM commented that the room leaves him wanting to do zazen, which is exactly what I wanted it to feel like again!
I've done laundry all morning, when I've not been moving stuff around the house or out to the car. Most of the fabric has all been washed up, I've plastic storage bins to put it in so it stays clean. It felt good to get things done around here today that have been languishing. With the teacher training starting Friday I've wanted to feel like I'd addressed some things that had bothered me.
Of course by now my back aches! Hoping the ride will loosen things up as will walking around this evening. I'm finding myself hugely relieved that things have settled down after those long weeks of distance. When CK would talk about doing this dinner a few weeks ago I felt uneasy, not sure that a romantic birthday dinner would be nearly as fun if we were still anxious with each other. After these weeks and the ups & downs I still feel myself getting a little giddy-anxious at getting all dressed up. Yes, for myself, but for her too.
Well I'm 39 today. It seems absolutely surreal; the arbitrary nature of age. I mean clearly I'm different from 20 years ago, 10 years ago, one year ago. But it doesn't really feel much different. I'm still here, in Portland, in the present.
I woke up a little later and CK made me toast I ate while I checked in on a meeting. I opened another present from her, she had picked up Lavinia for me as a gift. She knew I didn't have it yet and had been looking at it when we were at Powell's last Saturday. I am really touched at the ways she pays attention -- large and small. I wore the necklace she also got me today, made of dyed tagua. I love the colors of it and the feel, it is made from a seed and it warms up against my skin.
She insisted I wear her jacket today, that I'd be too chilled in what I'd put on. I'm still figuring out what I need to wear, eat, do when including the bicycle rides in my day. When I was going down the hill to the bridge I was so grateful for it, and her. As I came up on to the bridge I could see a barge moving sand upriver and the morning sun gleamed on the water. I still may feel a little nervous, but I'm starting to enjoy the bridge a little.
I was glad I rode in. The changes this year, including riding my bicycle to work, have been pretty big. I wouldn't have guessed this time last year I'd be riding a bike to work. That I'd be chanting at the Dharma center. Wouldn't have thought I'd have the kind of relationship that CK & I have. That my relationship with AM would grow and change to support CK & I in our love.
I got some work done today. Had a lovely lunch at Habibi with TG, DG, KW, and AM. Great food as always and so nice to have friends around me. KW had found a necklace with a quote from Mary Jean Iron handwritten on it, "Let me be aware" (see below for whole quote). On a piece of parchment attached in resin to a piece of glass, very small. It is just lovely.
Picked up some treats from Sweet Pea after lunch and got some more work done at home. Then I dithered around for 10 minutes with clothing. I finally settled upon a Prana skirt and the shirt AM got me from Seven Virtues. AM helped me settle. The shirt shows a lot of skin with the very wide, v-neck, and I'm just not used to showing that much. I know I used to, 10 years ago I'd have thought nothing of being revealing, but I wasn't really being myself back then. I was writing to CK that maybe it is because I feel so exposed, being myself, that I am wary of criticism. Or at least the kind of criticism I grew up with and knew in my first marriage.
I'm trying to keep focused on the reality. When I have revealed myself, my life, to people they haven't criticized me. I still am trying to get my mind around this -- that my differences really can be celebrated and respected. Still trying to get a hold of the unintuitive concept that the stability I've created in my life has made it possible to really see the past for the trauma it was.
It has been a lovely birthday, all around. It has been wonderful to have this day to share with my friends and partners. In all that it felt the same, it felt special because it is a day we set aside to honor someone for who they are. That's what makes it different, not that you suddenly feel older.
"Normal day, let me be aware of the treasure you are. Let me learn from you, love you, bless you before you depart. Let me not pass you by in quest of some rare & perfect tomorrow. Let me hold you while I may, for it may not always be so. One day I shall dig my nails into the earth, or bury my face in my pillow, or stretch myself taut, or raise my hands to the sky & want, more than all of the world, your return."
-- Mary Jean Iron

I woke up cold, fatigued and hurting today. I thought about just going in, getting a ride from AM rather than riding in like I'd planned. Then I realized I really didn't think sitting in the cold office (although it has been cool the building A/C has been running full blast) would be helpful at all. Zonker snuggled up next to me while I stayed in bed a little longer.
I was able to get more done than I'd thought I'd be able to via the web applications since I didn't have my work laptop at home to use the VPN. As the time for my appointment with my therapist approached I realized I was feeling stiff and anxious. As much as it would help to talk about some things I felt resistance to going and talking. My heart felt tight, pulling back through to my shoulders.
I went over the hard, hard weekend CK and I had at my session. GM agreed it sounded just awful and asked what we'd managed to figure out about it. I said that we eventually were able to realize what was happening with the other person and ourselves. That from that perspective we were at least able to understand that while it might seem like the other person was being irrational, it wasn't unreasonable behavior. I also noted that I felt what made it seem so horrible was that neither of us were able to offer much support at all to the other.
Then we talked about stuff from when I was a teen. I opened up and shared about the "anonymous" flowers Mom had sent to me at school when I was 15, fresh in my mind after finding the card that had been in that bouquet, and about other ways in which she tried to direct my "romantic" life. Looking back on it I find it so unsettling whereas at the time it was so easy to get caught up in things when my Mom was excited about something and enthusiastic. She was so depressed and angry so much of the time that her being happy about anything at all was a welcome break.
GM pointed me back to knowing that everything during my childhood of course seemed reasonable and normal, I didn't know any other environment. She said she didn't know what to offer me in the feeling that every time I look back at my childhood and adolescence I'm more and more disturbed. She noted that all she could really do was look at with me and confirm for me those uneasy emotions, that it wasn't alright and it makes sense that it took me until my 30s to figure out anything about my sexuality.
I left feeling crackling energy across chest and back. Anger, irritation, disgust, and hurt all tight and present in my muscles. CK had messaged me during the appointment asking if I wanted to ride to yoga. I'd sent back that I did because I thought it might be good to burn off some of that energy. I may try to schedule therapy appointments on Wednesdays more often so I can go to a yoga class and do something with the hard, painful emotions that come up when I do a session.
Tomorrow's my birthday and I'll be 39. That age seems so arbitrary, I don't feel hours away from 39. I feel like myself. My legs ache from the ride home and my shoulders still feel tight. I'm full of CK's homemade soup and bread from New Seasons, some chocolate, and I might have a little more wine. But there's this surreal quality that I'm 39 tomorrow. When I was 9 I know 39 sounded quite old. Now that I'm here it seems pretty immaterial to the present moment.
CK got me three things, I opened one tonight. a lovely necklace from Ecuador made of colored pieces of seeds. Really lovely and unusual, hand crafted. There was a beautiful card with it that made my heart feel full. I realized at some point today how grateful I am to wake up with her tomorrow, on my birthday. How grateful I am that AM is able to change and grow our relationship to include my relationship with CK. Last year at this time I didn't expect I'd be where I'm at this year, but I'm awed and humbled that I am.
Awoke groggy and tired again this morning. I should have made myself get up at 6:25 when I first opened my eyes and looked at the clock, but instead I dozed off again. When I finally got up a little past 7AM I stumbled around stiffly and got to working. I got through all my meetings grabbed a quick shower before going over to BM's for a massage.
It was so busy today, meetings where I actually was a participant. Hard to feel like I got any "work" done just all the talking. Yes, I know it is work and equally important, but I would have preferred to get other things done. Tomorrow is similar although I'll get to have lunch with CK in the middle which always seems to make the day go better, even the week.
I told BM about the emotional storm last weekend, how I could feel how tight and stiff my back was. Lots of really taut tendons and muscles in the shoulders and neck, energy moving out down my fingers. She thinks I may have slightly bruised my knuckle when I whacked it against the floor at Dishman which is why it hurts when I grab with that hand. She worked on that a bit as well, lengthening out and moving the tightness in the joint.
While AM made dinner I sat in the shala room, now pretty well organized (I need some kind of shelf unit). I phoned Mom and talked with her a little bit, thanking her for the box of birthday gifts. I was most thrilled with the flattened pennies she'd got on her trip this summer with her husband. This simple thing is something she can do and answer that need she feels to buy me things, they are very small, and I do enjoy them; there were over a dozen from her trip. She also sent a check so I could buy myself a magazine subscription (considering Tricycle, Shambhala Sun or Parabola). Also included was a bath soap (sodium laurel sulfate and artificial fragrance, but OK), and Halloween themed "advent" calendar, and some wreath thing I didn't quite figure out yet.
What's hard is if I tell her not to get me stuff her feelings are hurt. I then have all this stuff that I often don't know what to do with and feel a bit guilty for preferring to chuck. CK got a great introduction to this when she came with me to the Mother's Day lunch. Mom wanted to include me in all the gift giving so she'd got some little mirror/plaque thing with some greeting card-esque statement on it. Anyone who's been in my house would know looking at it that this is not something that fits at all, but she got it for me anyway because she wanted to be giving us all little gifts.
What is strange is that I do like gifts. I even specifically requested something AM could get me (a lovely shirt from Seven Virtues... bit more cleavage than I'm used to but I do think it looks good). I guess it is because sometimes Mom's gifts seems so steeped in her either feeling as though she has an obligation to get me something and/or her not always buying what really suits me. At best there is some kind of medium of the things I enjoy (squashed pennies and magazine subscriptions) and things I really don't use anymore (Halloween advent calendars, little mirror plaques, etc.). Gift giving events could also be so utterly fraught in tension and my Mom made a big deal out of my birthday, in fact I used to hold a big party every year for my birthday. Now I feel a bit uncertain what to do beyond enjoy things with my friends.
CK came over for dinner, AM made white bean & "chik'n" chili with cornbread, and we all sat in the breeze on the deck enjoying it. She noted all the red in the garden and went out to inspect. The sounds of amazement got me into my shoes, grabbing up a basket & scissors, and out to the garden with her. She held the basket while I picked at least 2 pounds of tomatoes (including a luscious, perfect brandywine), cucumbers, eggplant, and squash. We stood around the beds popping tomatoes into our mouths. CK bit into one of the chocolate cherry tomatoes, trying to halve it, and seeds and juice shot three feet through the air and landed on AM. It was glorious fun.
She hung out for a bit, we laid around in the shala looking at my pose flashcards. It gave her a laugh when I brought them out along with the CD. She had been saying how she'd like a way to learn the poses better and I'd finally organized enough to just hand something to her. There was a lovely sweet closeness to it, laying there with her in the comfortable space. We kissed a little, softly and it felt as though another sigh went up from my psyche. Not that there wasn't desire, but there was also comfort and a feeling of the deep connection, the teeth of the gears fitting together and moving forward instead of slipping and grinding.
I got my therapy appointment switched to Wednesday so I'm not ending Thursday on tears. Everything has been so at the surface and I do see the point of working on it, I just finally agreed I should rest a little for my birthday and take it easy on myself. I still think I'll work on Thursday. BM suggested that we plan around a 6PM start at Last Thursday. CK is suggesting I put in an order from something delicious from Sweet Pea, I'm thinking... maybe I'll phone Lisa tomorrow and ask what's new. The "Elvis" cake sounds intriguing although I'm equally tempted by the coconut cake, especially if it could be done with some chocolate ganache, seems like that would be lovely. Maybe with some berries on it.
I'm leaning towards taking Friday off. I can consider going to see Mom for a little bit, something I know she'd appreciate. Yeah, my birthday, but in a way I'm mindful of wanting to share the day with her and recognize how important it is to her as well. It is difficult practice having a relationship with my Mom. I mostly try to be compassionate towards her and honor her because she is the person who brought me into this existence. But there's so much history there that just hurts and the choices she makes I think are unwise much of the time, so it is hard practice.
She said she wants to read what I wrote for Ink on the Cat, I'm not sure if I should share it because it notes how I felt alienated and unsupported by my family. I know if I don't mention it again she'll likely forget about it.