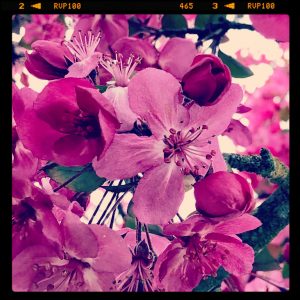 Last night the site was down, so this didn't get added, but was written yesterday:
Tender greens unfurl.
Collect raindrops along the stem.
Humble diamonds.
Today's haiku accesses some of the anxiety and pain I'm feeling today.
Blooming regardless.
Flowers know nothing of fear.
They answer the light.
Like dogs, I'm sure I will write more then one gratitude about cats. Today is the first of those days. While more complicated than dogs, there is so much to love about our cats. They're playful, curious, loving, and infuriating in pretty much equal parts. Cats were around growing up too, my Mother seemed to view them as the right pet to have, requiring minimal help from herself. There were a lot of times when it felt like our cat was my only source of comfort in my family.
Today I really enjoyed spending time sitting on the sofa with our tuxedo kitty. Of the two cats we have, he's most bonded to me. He's anxious, particularly about food, and really never lets me sleep in. He's attacking the bedroom door before 7am most mornings, anxious he won't get a meal and needing comfort. At night he often sits on my cushion next to me while I meditate, occasionally even bugging me to do my bedtime sit if I'm still on my laptop late.
In the words of poet Charles Bukowski:
My Cats
I know. I know.
they are limited, have different
needs and
concerns.
but I watch and learn from them.
I like the little they know,
which is so
much.
they complain but never
worry,
they walk with a surprising dignity.
they sleep with a direct simplicity that
humans just can't
understand.
their eyes are more
beautiful than our eyes.
and they can sleep 20 hours
a day
without
hesitation or
remorse.
when I am feeling
low
all I have to do is
watch my cats
and my
courage
returns.
I study these
creatures.
they are my
teachers.
Today is National Poetry Day, which I find a little odd since Poetry Month, April, is nearly here. Without looking too much into it, I've decided I'll participate in both. I'm hoping to start up my annual spring challenge of 30 - poems - in - 30 - days, next month to celebrate the whole month.
I also finally watched the OPB broadcast about William Stafford, which inspired me to write something simple to honor all the poets who have meant so much to me today.
Wetlands Evening

I gaze westward into the
Golden light of the late afternoon.
Smiling to see the geese
Setting up home in the grasses.
The sunlight streams in sideways,
Glimmering and glowing in the water.e sime
Twilight is falling.

Later, darkness has fallen and I
No longer see the wet, brackish water,
But I hear the gentle honking of the geese,
Settling into sleep, and the symphony of
Frogs, hundreds of them, thousands perhaps.
I slow my pace home to linger and listen.
I've only been able to establish a restful sleeping pattern in the past year. Peeling back the years of trauma and job-related stress (those 17 odd years of being on call) that created my inability to sleep well, chronic insomnia (couldn't get to sleep, couldn't stay asleep), starting from age 4 or earlier, has been hard. Multiple professionals have helped to treat me and give me tools to help me learn to rest at last.
These days I don't sleep as often or as much as I was in early 2014, but the need is still there. After more than a year of practice I am finally able to listen to my body without fear or self-shaming and let myself nap, fully rest, whenever I need to. It is nothing short of miraculous.
Learning Rest
After a lifetime
Of restlessness.
Nights of scattered,
Small hours of sleep
Caught between the
Night terrors and the
Waking anxiety that
Brings them.
To experience the
Gift of sleep, to
Learn the rhythm
Of the body and
Its need for rest,
True rest that heals,
Is sipping from
Kwan Yin's jug.
Drinking in the
Elixir of life.
As I am feeling my way into this new way of being in the world, emerging into the life of a yoga teacher, artist, and writer with equal measures of joy and trepidation, I am trying to return to some things that helped foster my creativity, like annual 30 Poems in 30 Days project for April, which just happens to be National Poetry Month.
In years past I've really loved showing my love for poetry by committing to challenge myself to write 30 poems in 30 days. I'm not sure
here on April 1, 2015, if I've ever done them all. I'll have to look back and see. I'm not sure I'll get them all done this year, but I feel good about reviving this "tradition" on my blog. Trying to write poems each day challenges me in many positive ways.
The biggest challenge is to just compose a poem. Write it, one day, often at a single sitting (although a haiku may take me the whole day to compose). Don't fiddle with it, just write it, publish it on the blog. Don't judge it, just write it. That's a hard one to work with, but this annual exercises challenges me to work with my inner critic.
New Path
This uncharted territory
Had beckoned to me,
Yet always seeming
Far off, shimmering
On the horizon.
Yet now I find myself
Right at the edge,
Ready to step down
The road to a new way.
Now, now is the time.
I feel, all at the same time,
Joy, fear, uncertainty,
And, to my surprise,
Delight at moving into a life
I never dared hope to live.
It has been kind of a tough week. Not anxious, more down, just another low of grief and anger to process. Between the session a week and a half ago and going through some photos of me as a child I've been stuck in a kind of anti-social funk all week. Once I just accepted that my week was going to include this processing, made space for it, I was able to find things I felt like I could accomplish and was also to take moments to really feel the happiness the exists concurrently, in the same space as the grief and anger.
Despite my hermit-y mood, I did make it out Friday to a neighborhood, small-business owner lunch. It was held at a place I was familiar with and knew food wouldn't be an issue. I got to practice saying things like, 'I'm a yoga teacher." and "I'm an artist" with strangers. Also practiced acknowledging I got really ill this past winter due to extreme stress and sleep disruption with both my old job and living with my Mother. I left with someone possibly interested in some private sessions to help her create a home practice she is comfortable with.
Today I got up and walked Dora then started puttering around the house most of the day. I may have over done it about, especially since there was a lot of moving stuff from upstairs to down and from down to up. However, I look around at the work done, much of it to improve my own studio space, and it feels good to make progress despite feeling a lot of aches.
After some dinner and watching a little MLS on television I went out to soak in out hot tub, listen to the frogs singing, and appreciate the "super moon" rising. We never really had any wish to have a hot tub when we were house hunting in 2012. That said, we're appreciative of the house having one that's so convenient to use (right off the kitchen on the deck). My doctor and other care-givers strongly urge me to soak every night before bed, and I do think it has been helping a lot with sleep and the level of nighttime-to-morning pain.
Tomorrow CK returns from London, briefly, before heading down to California. It will be so nice to have her company for a little while. Her laugh and made-up songs always lift my mood.
I couldn't resist a haiku in honor of tonight's moon:
Summer moon rises.
Golden and full in the sky.
Frogs sing gratitude.
This week CK is in London. My big goal is to try and do some good photography of the artwork I began working on this past winter. I feel like it has been a whole new expression for me. At times it is almost as if the lack of creative output during those last 18 months or so dealing with my Mother and my job just condensed into a more complete expression if that makes any sense.
Last month at the World Domination Summit (WDS) I ended up sharing my newer work with quite a few people. I was pretty blown away by the positive response and the interest to purchase pieces. I'm going to be exploring the wonders of setting up an Etsy shop in the next week or two and start selling artwork. I've also started to post about art projects, technique, etc. on our new blog, ZenZada; there's even a post up about a co-creative project I've started because of a workshop I took during WDS. I'll continue to explore what art means to me, and how it is part of my healing, here.
Last week had a tough therapy session. After nearly a month of nightmares with a pretty consistent thing, we looked into what was coming up around it. I was disappointed that it is one of those Big Trauma incidents from when I was 9, which was a year really filled with upset all around, but one thing in particular really haunts me. I always hope each time it comes up that I'll be done with it and moving on. Apparently not yet. My therapist says she thinks I need to work on forgiving my 9-year-old self.
All that and CK in London, plus my planned Saturday beach trip has been canceled due to illness. Just enough to make me sigh and feel a little blue. On the positive side, the creatures are happy to spend quiet time with me, I'm seeing a concert tomorrow evening, and this summer has had us listening to frogs singing, which suits our treehouse-feeling home perfectly.
Summer Haiku
Frog song in the night.
Wind whispering the bamboo.
Waxing moon arises.
Magnolia Scent.
Heady perfume on warm breeze.
A cicada sings.
Warming up for April, National Poetry Month, and my annual attempt to post 30 poems in 30 days.
Fog Days
There are the days
When a grey fog
Rolls in to
Obscure the
Green hills.
On other days
The dense,
Heavy damp
Rolls in and
Over me and
I am chilled
Throughout.
The hills and I
Wait those
Long hours for
Either strong wind
Or warm sun to
Turn the cold,
Obscurity into
Wisps that
Melt away
Into clarity.
Outside wind howling.
Chimes sound a cacophony.
My heart is heavy.