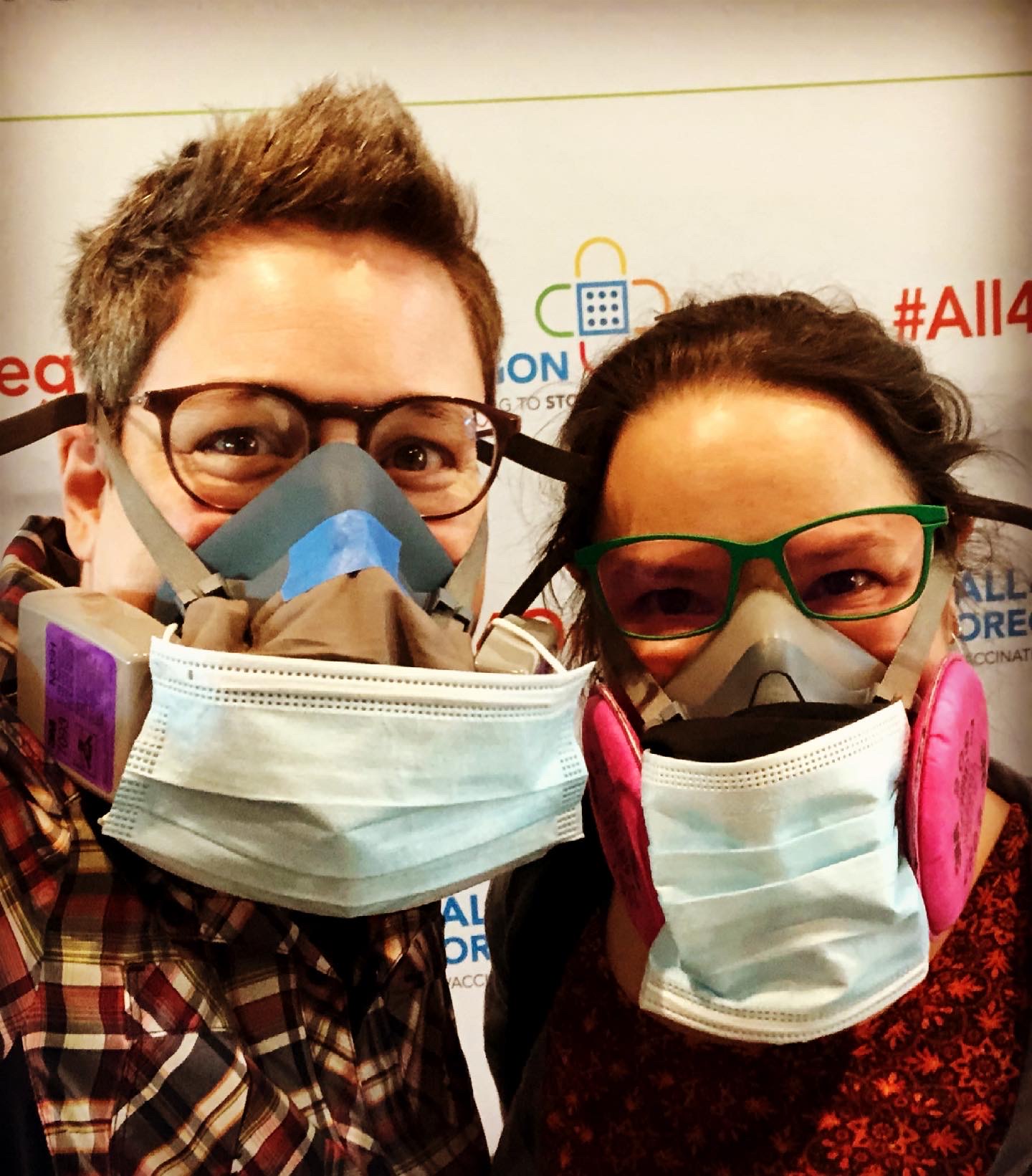 We got our first round of the Pfizer vaccine today. Gosh my arm hurts all the way through my jaw, neck, and head and down to the hand, even the ribs on the injection side ache. The redness went away, still a little swollen. Both of us have headaches too.
So strange to be in the Oregon Convention Center, in the space we last experienced as an OSCON vendor hall, getting a shot.
Surreal, beautiful moment; walking into the OCC on a sunny, warm, April afternoon with a steady stream of people. Everyone masked, us in our respirators with cloth masks secured over the exhaust. Cherry blossom petals floating on the breeze around us all.
I commented to CK that I felt like we were in some post-apocalyptic, Japanese anime movie. Only the apocalypse is present and we're all staggering forward together. Well, most of us are trying to anyway.
Dora does not have cancer. She does have extremely bad pancreatitis and needs special food. She's eating the special food though; the vet fed her some and she ate some more for me at bedtime. She also walked up the stairs!
And then I got an email that shares with us a generous gift. It arrives at such a fortunate time and will make everything that needs to happen the next few months easier.
I was so overwhelmed, "verklempt" CK reminded me of this word, that I couldn't articulate to CK what was in the email. She grew quite alarmed for a moment as I struggled to get the word "good" out of my mouth and thrust my phone at her so she could just read the email. Then I sat down on the sofa and blubbered incoherently for a bit. Then I managed to text our dear friend a jumbled message of gratitude.
Then I opened a special bottle of bubbly wine!
It's been a rollercoaster the past couple of weeks. I'm grateful to be on it, especially in my "half-baked" (1 shot in of 2, when you're "fully baked") state.
Petals float by us.
Steady stream of masked people.
We walk carefully.